Yes, they are. We use thick, premium materials, print on the world's best digital printer and use state-of-the-art cutters and laminators to create high-quality stickers and labels.
But we are, of course, biased. Make up your own mind by reading our quality checklist below and get your free material sample pack! In this article, we will cover:
What makes custom stickers and labels good quality
Material selection
Adhesive strength
Print quality
Cutting equipment
Lamination
What to look out for when ordering stickers and labels online
Advice and expertise
Design proofs
Lead times
Reviews
What makes custom stickers and labels good quality?
What does "good" look like when it comes to stickers and labels? This question can be hard to answer when you are a first-time buyer. But worry not, below, you can find a list of quality control aspects you can keep in mind when unpacking your new stickers and labels.
Material selection
The first step to making good quality custom stickers is the right material. Of course, the right sticker material for you depends on how you want to use your stickers and labels.
If you are unsure which material to choose, you can use our assistant to get an instant recommendation.
Beyond that, professional sticker printing businesses should fulfil some basic quality requirements.
Most of these relate to the durability, thickness and overall look of the materials offered. You should be able to assess the latter through detailed website images and content that gives you additional information about which stickers and labels are waterproof.
Durability and thickness can easily be tested by ordering material samples, which every good sticker printer should offer.
Adhesive strength
Your perfect sticker or label obviously has to be sticky. Otherwise, there is very little use for them. A high-quality sticker printer should offer several options and be very explicit about which adhesive to use when.
You can find an overview of the different strengths of adhesives right here. But if you are unsure, opt for a permanent adhesive. This will stick to most surfaces without damaging them. Almost all of our labels and stickers come with this type of adhesive. The only exceptions are heavy duty and static cling.
Print quality
This is the be-all and end-all of printing. It determines the clarity and quality of your stickers and labels. Because of this, we have invested in the world's best digital printer. And we are not just saying that. This £600,000 beauty is where it is at - and once you have tried it, you won't settle for anything else.
Cutting equipment
Die cut stickers, kiss cut stickers, sticker sheets. The world of custom printing is full of these terms. Essentially, they refer to how your sticker or label is cut.
You can always have a custom shape, but when you opt for die cut stickers, your individual stickers are cut through the material layer and the backing paper. Kiss cut stickers and sticker sheets, on the other hand, leave the backing paper intact.
You can find out more about the difference between die cut stickers and kiss cut stickers here.
Now, these often intricate shapes cannot be cut with scissors. Instead, digital or laser cutters are used for the most precise result. When you receive your order, make sure that
There is no white space around the edge of your sticker or labels

The cut is precise, without extra bits of material

You can easily peel your labels off the sheet
Smooth lamination
If you are after that premium glossy finish or want your stickers and labels to be extra durable, laminate them.
For our stickers and labels, this is a standard process unless you specify otherwise. The only material we do not laminate is biodegradable paper as it has a beautifully natural matte finish.
While lamination makes your stickers and labels look high-quality, it comes with its own pitfalls. If the production facility is not super clean, dust and dirt can easily get caught underneath.
The same applies to air bubbles. While this can happen, internal quality control processes are to catch these before they make their way to your doorstep. If you receive a sticker or label like this, reach out to your printer and ask for a reprint.
What to look out for when ordering stickers and labels online
When ordering stickers and labels online, it can be hard to access great quality. After all, you are buying a physical product that you cannot touch.
However, there are a few things you can research before selecting a sticker printing company. Let's have a look at each.
Advice and expertise
A good sticker and label printer will have all the information you need and answer the questions you might have on their website. Check FAQs and knowledge hubs.
These should contain plenty of information about their product range, how to choose the right material, when to order labels over stickers, how to prepare and upload your artwork, as well as tips and tricks on how to use your stickers and labels.
A top-notch printing business will always be an expert in printing and design.
Should you not be able to find the answer to your question, reach out to their customer service team (a contact address should be very easy to find). The quality of their response will give you an indication of their expertise.
Free, unlimited design proofs
Do not order from a printer that does not offer digital proofs before printing your order. A design proof is a digital representation of what your stickers or labels will look like when printed.
It is usually sent within a day after you have placed your order and is free of charge.
A design proof is an absolute necessity as it allows you to interfere and request changes (for free) before your design is sent to print.
Each iteration will be sent to you again, and nothing should be printed without your approval.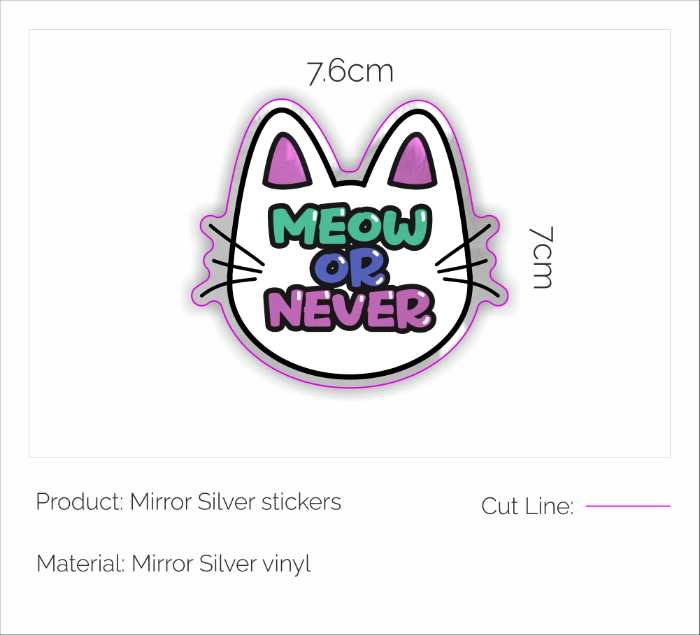 Transparent lead times
Even the best stickers and labels in the world are of no use to you if they do not arrive in time.
Now, custom-made products always take some time to make - and that is okay. However, these times should be openly communicated on the website.
As a rule of thumb, a working week is a fast turnaround. Anything up to 10 days is pretty much the industry standard.
Add to that the time it takes to ship your order to be 100% sure that you get your stickers and labels in time.

Reviews
Of course, we cannot forget about reviews. These are customers and people that are exactly in your position but have already completed the ordering process.
Were they happy? Can you understand the critique? And, most importantly, does the sticker printing company respond to reviews in a helpful way?
It is not necessarily about the number of reviews a business has but the pain points raised by customers and how that feedback is dealt with by the printing company.