Laser cutting
Laser cutting uses high-powered lasers to vaporise material in its path. It can cut any shape, is super fast (up to 100m/minute) and has a cutting accuracy of 0.1mm.
More of the digital printing industry is using laser cutting because it's so fast and accurate
Digital motors control a small, ultra-shape blade to cut stickers, such as on a flatbed like this:
Popular suppliers of flatbed cutter include; Zund, Summa & many others.
These machines range from entry-level to costing £100,000+ and are used to cut leather, plastics, cardboard, fabrics and many other materials. 
Die-cutting
Traditional die-cutting had been around for hundreds of years. A metal 'die', which is a thin strip of metal, formed to the desired shape, is stamped into the sheet of printed media to cut the sticker. Like this:
Once the die has been made, it's super fast to cut thousands of stickers, which makes it an attractive way to cut labels, even today.
A more modern take on traditional die-cutting is semi-rotary die-cutting. It's used widely in the label industry. The die is attached to a roll, and as the printed roll of film passes under the roller, it cuts the sticker. 
It looks like this: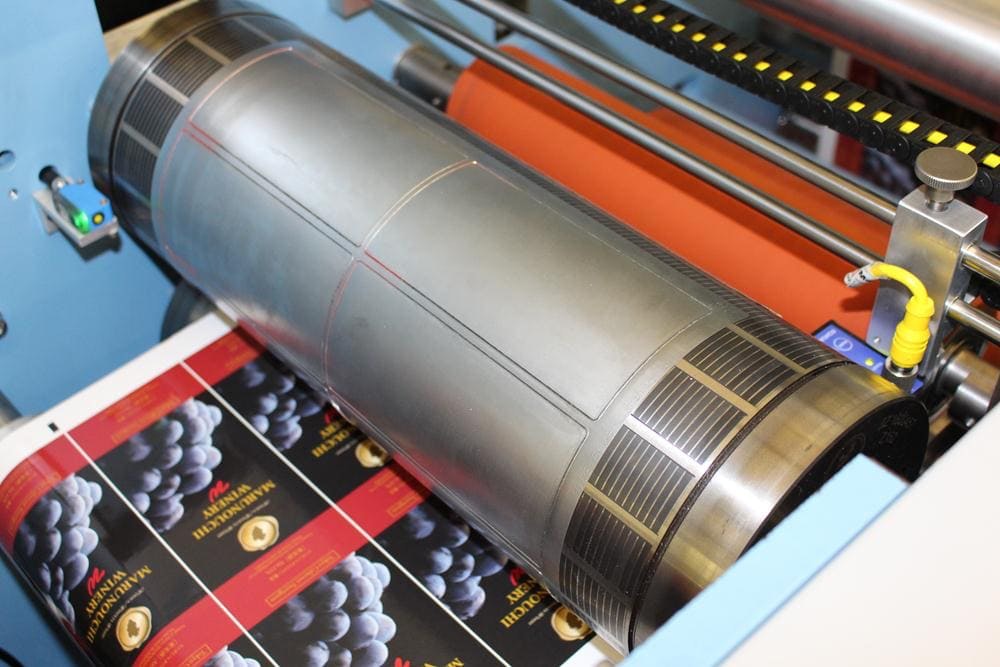 It's great for simple shapes such as rectangles, squares, circles and ovals.
Do you want to learn more about custom sticker and label printing? Then have a look at our blog. You can also reach out to our experts with any questions.